Membersarea:
Password:
Username?
Istill no account?
Registered you now!


Ulqini/Ulcinj

Where is Ulqin/ulcinj

Town's stormy past

Classical Ulqini/Ulcinj

Berlin Congress

Seafaring in Ulqin/Ulcinj

Durin Roman Empire

The peuple

Shasi

Valdanosi

Ada

Ambient

Velika Plaza

Mala Plaza
---

Culture and Leisure
ADA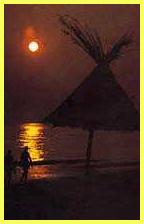 By chance not so long ago the river islet of Ada developed on the mouth of the frontier river Buna. In 1958 schooner Merito, owned by Antun Allegretti of Togir, commended by Captain Naporeli, sank in the river. There used to be two small islets on the site. It is supposed that as time passed the river deposited material around the skeleton of the sunk ship and those two islets, and so first a sandbar and then today's island was formed.
Surfacing the island divided the river into two forks, and itself obtained the triangular shape. It is 2.8 km long in the direction of the water flow, 1.8 km wide, and 3.4m high. Two of the sides are washed by the fresh water of the river, and the third , sandy, beach is lapped by the waves of the sea. The right fork of Buna is bridged, connecting Ada with Great Beach. On the banks of this part of the river Buna were built wooden huts with strange fishing divaces-Kalimera, which make it look like an exotic area of the far east Ada, far away from the world, is a real oasis of peace and relaxation. Its absolute silence is distributed only by the chipping of rare birds and the breaking of waves. Its thick and lush vegetation makes it a special micro ecological world, the home of rare plants and rare animals.
The island holds the modern naturist resort Ada Buna,ready to bring joy to lovers of naturism and complete contact with nature. Many of them return to Ada again and again.
Responsible for content pursuant to§ 6 MDStV: Shaban Burri
The author is not responsible for any contents linked or referred to from his pages - unless he has full knowledge of illegal contents and would be able to prevent the visitors of his site fromviewing those pages. If any damage occurs by the use of information presented there, only the author of the respective pages might be liable, not the one who has linked to these pages. Furthermore the author is not liable for any postings or messages published by users of discussion boards, guestbooks or mailinglists provided on his page.