Membersarea:
Password:
Username?
Istill no account?
Registered you now!


Ulqini/Ulcinj

Where is Ulqin/ulcinj

Town's stormy past

Classical Ulqini/Ulcinj

Berlin Congress

Seafaring in Ulqin/Ulcinj

Durin Roman Empire

The peuple

Shasi

Valdanosi

Ada

Ambient

Velika Plaza

Mala Plaza
---

Culture and Leisure
Seafaring in Ulqini
Ulqini is a town with a long and rich maritime and merchant tradition. The peak of seafaring was in 17th 18th and 19th centuries. Ulqini's own merchant marine traded between the large ports and trading centers of the Adriatic, Levant and Mediterranean. They shipped whit to Venice, Istria and Trieste, wool to Genoa, tobacco into several Adriatic ports and so on.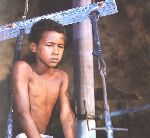 Under the Turks (1571-1880) the merchant marine of Ulqini was the main pillar of the Ottoman Empire in the Adriatic. In the times of need the port also used Ulqin's ships for purpose of war, especially in battles against their rival Venice.However, the brave and skilled sailors of Ulqini would not obey the state authorities of Turkey explicitly. Ulqini was more like a small republic.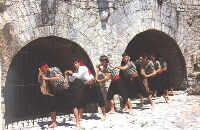 According to Baldacci, in the 17th century Ulqin's fleet had 500 two-masters sailing across the whole Mediterranean. The inhabitants of the town were skilled sailors and good shipbuilders.
The French consul in Shkodra, Hecquard, wrote that Ulqini had a shipyard that could build ships 100 to 200 tons. Besides local builders, the best known of whom were Hus Omeri, Usta Osman Beqiri, Sali Maloja and Adem Tivari, shipbuilders from Dubrovnic and Korçula worked here.
Responsible for content pursuant to§ 6 MDStV: Shaban Burri
The author is not responsible for any contents linked or referred to from his pages - unless he has full knowledge of illegal contents and would be able to prevent the visitors of his site fromviewing those pages. If any damage occurs by the use of information presented there, only the author of the respective pages might be liable, not the one who has linked to these pages. Furthermore the author is not liable for any postings or messages published by users of discussion boards, guestbooks or mailinglists provided on his page.