Membersarea:
Password:
Username?
Istill no account?
Registered you now!


Ulqini/Ulcinj

Where is Ulqin/ulcinj

Town's stormy past

Classical Ulqini/Ulcinj

Berlin Congress

Seafaring in Ulqin/Ulcinj

Durin Roman Empire

The peuple

Shasi

Valdanosi

Ada

Ambient

Velika Plaza

Mala Plaza
---

Culture and Leisure
The Berlin Congres And The Ulqini Question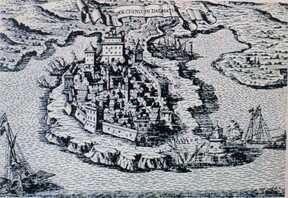 During the years of the Albanian independence movement, the League of Prizren, Ulqin together with Shkodra, became the focus of Albanian resistance to Ottoman, Montenegrin, and west European armies. The Albanian population was caught between the Montenegrin and European powers armies' on one side, which were there to implement the resolution of the Congress of Berlin (1878), which had accorded Ulqin to Montenegro, and the Ottomans, which refused to comply with the decisions. After the resistance movement was supressed, Ulqin, together with the Albanian populated regions of Plav', Guci, Podgorica, Tivar (Bar), Berana (Ivangrad), became part of the Principality of Montenegro in 1880. Albanians still comprise the majority of the population in Ulqin, despite the pressure from the Montenegrin regime.
Responsible for content pursuant to§ 6 MDStV: Shaban Burri
The author is not responsible for any contents linked or referred to from his pages - unless he has full knowledge of illegal contents and would be able to prevent the visitors of his site fromviewing those pages. If any damage occurs by the use of information presented there, only the author of the respective pages might be liable, not the one who has linked to these pages. Furthermore the author is not liable for any postings or messages published by users of discussion boards, guestbooks or mailinglists provided on his page.