Membersarea:
Password:
Username?
Istill no account?
Registered you now!


Ulqini/Ulcinj

Where is Ulqin/ulcinj

Town's stormy past

Classical Ulqini/Ulcinj

Berlin Congress

Seafaring in Ulqin/Ulcinj

Durin Roman Empire

The peuple

Shasi

Valdanosi

Ada

Ambient

Velika Plaza

Mala Plaza
---

Culture and Leisure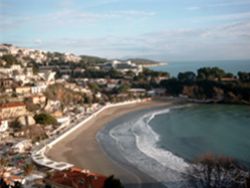 This is a city beach with a sandy strand. The sand is fine, of high quality and the sea bottom is sandy too. Because of that the color of the water is dark green-blue. This beach is distinctive for its shallow bottom which goes far into the sea. That's why it is very suitable for children.

The Small Beach is 360 m long and its capacity is 2 500 people. At the very end of the beach, beneath the Old Town, where the walls emerge as if directly from the sea, is a small Ulcinj port (360 m) with a well managed pier. In its background there are restaurants, beer bars, cafes, and towards the inside is the town Ulcinj-the southernmost spot of the Montenegrin coast-line. Ulcinj is built in sea-oriental style.
Responsible for content pursuant tož 6 MDStV: Shaban Burri
The author is not responsible for any contents linked or referred to from his pages - unless he has full knowledge of illegal contents and would be able to prevent the visitors of his site fromviewing those pages. If any damage occurs by the use of information presented there, only the author of the respective pages might be liable, not the one who has linked to these pages. Furthermore the author is not liable for any postings or messages published by users of discussion boards, guestbooks or mailinglists provided on his page.