Membersarea:
Password:
Username?
Istill no account?
Registered you now!


Ulqini/Ulcinj

Where is Ulqin/ulcinj

Town's stormy past

Classical Ulqini/Ulcinj

Berlin Congress

Seafaring in Ulqin/Ulcinj

Durin Roman Empire

The peuple

Shasi

Valdanosi

Ada

Ambient

Velika Plaza

Mala Plaza
---

Culture and Leisure
| | | |
| --- | --- | --- |
| | | |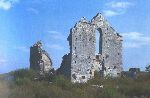 This ruined medieval fortified city of the old Zeta near Ulqin on raised ground above of lake of Shasi, is one of the most interesting dead cities of the Adriatic coast.
Shas was mentioned for the first time in he 11th century as a bishop's city. In about 1183 it was taken by Stefan Nemanja and joined to Rashka together with the other towns of ancient Zeta. It was destroyed by the Mongolians in 1242 and renewed by Queen Jelena. It was completely deserted after it was taken by the Turks in 1571.
According to the 14th and 15th century tradition, Shasi had as many churches as the year has days, but today the foundations of only eight churches can be discerned in the ruins. The two largest are the older (about 1300) Romanescue Cathedral of St.John the Baptist in the highest part of the city, and newer Gothic Franciscan church of St. Mary in the suburban valley.They both had a single nave divided into two parts by a low partitioning wall, and a timbered roof. All the churches in Shas had architectural l decorations and frescoes, and in some of them traces of paint can still be discerned on the walls. Archaeological research of this dead city is under way.
Responsible for content pursuant to§ 6 MDStV: Shaban Burri
The author is not responsible for any contents linked or referred to from his pages - unless he has full knowledge of illegal contents and would be able to prevent the visitors of his site fromviewing those pages. If any damage occurs by the use of information presented there, only the author of the respective pages might be liable, not the one who has linked to these pages. Furthermore the author is not liable for any postings or messages published by users of discussion boards, guestbooks or mailinglists provided on his page.